Learn about the overall interface and basic features of Moloco Cloud DSP.
1. Ad account menu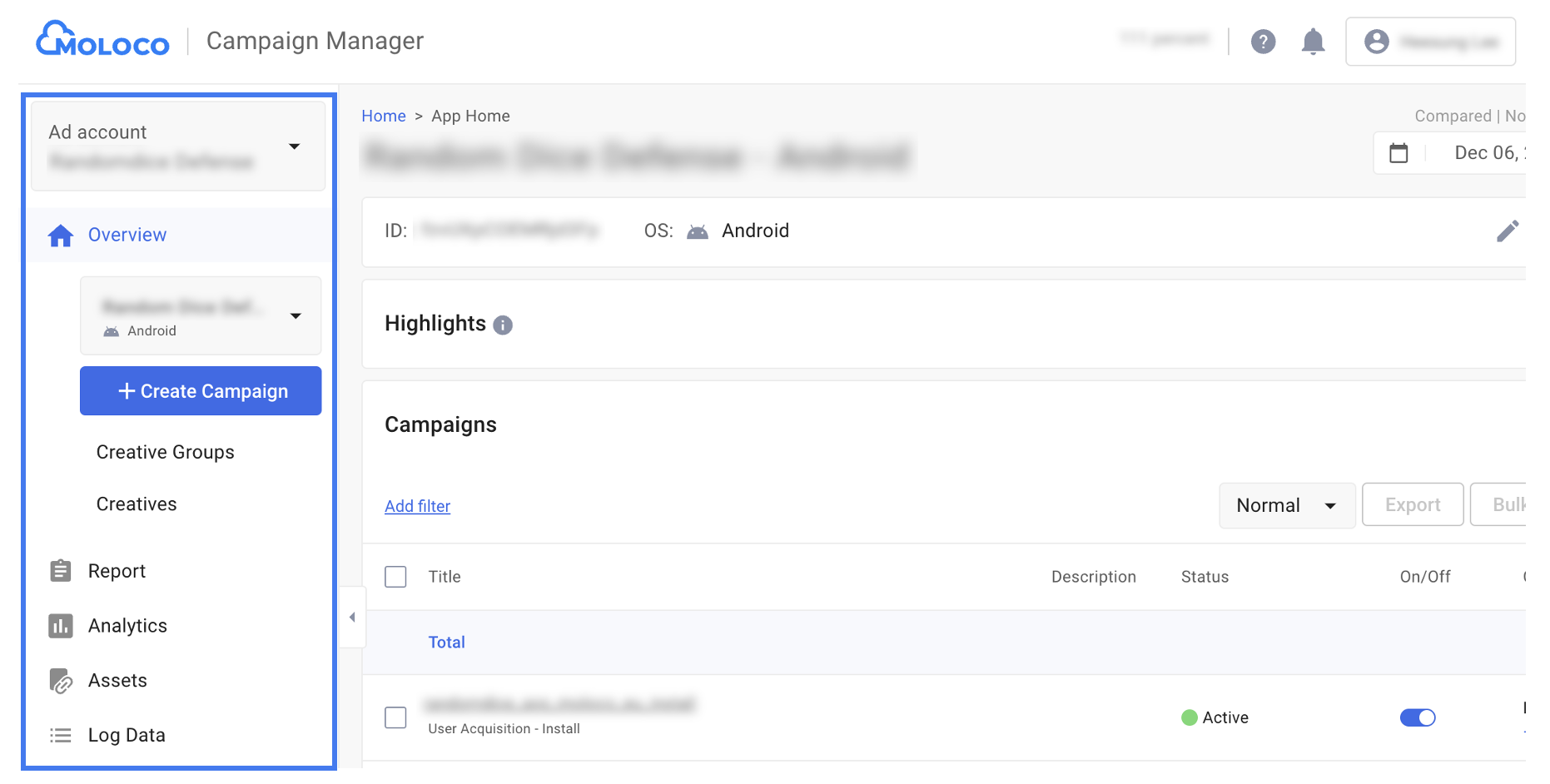 Sidebar
Tab (submenu)
Description
Ad Account

Select your Ad account from the dropdown list.

Overview

Apps
Campaigns
Creative Groups
Creatives

Check the list of apps and campaigns under the selected ad account and monitor overall performance trends on the right main part of the overview page.

From the left sidebar menu, you can access creative groups and creatives for each app.

Report

Create customized reports by app, campaign, ad group, or creative group. All data is available to download in CSV format.

Analytics

Utilize pre-defined and more detailed analysis by Creative, Inventory, and Exchange to get campaign insights. Cohort and SKAdNetwork analyses are provided as well. All results can be downloaded in CSV file format.

Assets

Apps
Targets
User Lists
Tracking Links

Add and edit apps, targets, and tracking links. You can specify your target users by uploading an ADID list or creating a target based on postback data on the User Lists tab.

Log Data

Log Data Download
Log Data Transfer

Download log data about impression, click, install, or action in CSV format.
2. Settings
You can unfold the Settings menu (blue-bordered square) by clicking the profile icon on the top right corner (blue-shaded square).

Workplace
Select the workplace accessible from the dropdown list.
Workplace settings
| | |
| --- | --- |
| Menu | Description |
| Information | Access the Workspace Title/ID/Logo information. You can change your Workplace Title and Logo image. Workplace ID can't be changed once created. |
| Ad Accounts | Access to create and manage all Ad Accounts for that Workspace. |
| Users | Invite users to that Workspace and assign roles to each user (Owner or User) to grant access. |