MOLOCO Cloud Release Note
There has been an update of features for MOLOCO Cloud which has been released on September 1, 2021.
New Features
SKAN Event Management - "Custom" Mode
Now MOLOCO Cloud support a Custom conversion value schema in the SKAdNetwork Event Management settings.
You can upload a CSV file with your SKAdNetwork Conversion Value schema for the custom mode.
Creative A/B Testing
Creative A/B Test is now supported on MOLOCO Cloud.

Probabilistic Attribution must be enabled for iOS campaigns using the creative AB testing feature. This feature is unavailable for campaigns running only on Unattributable or SKAdNetwork attributable only traffic.
A separate page for the results of the Creative A/B Test is also supported.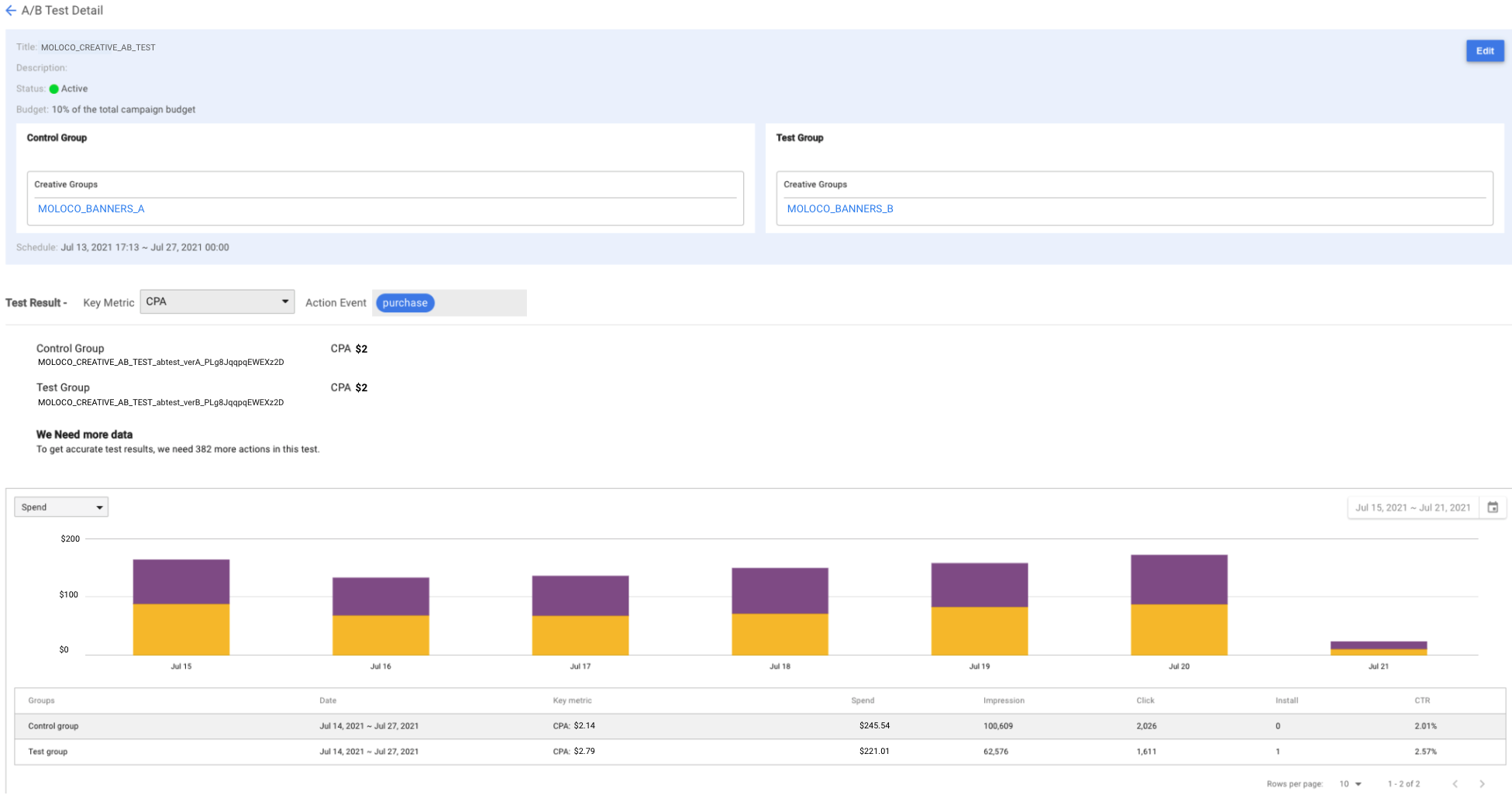 You can only check the results of Creative A/B Test based on MMP Attribution events for iOS campaigns. (Results based on SKAN attribution events are not provided).
Learn more about Creative A/B Test Settings.
New Notification - for No Postback
There will be a notification on top of the platform if a campaign is not receiving any postback within 24 hours of a campaign being live.
To turn off the notification banner at the top of the screen, you can close the banner by clicking the close (X) button, and you can check the closed banner in the notification panel at the top.

Updated Features
Updated SKAdNetwork Setting Options
The SKAdNetwork Setting options in the campaign settings have been updated.
Available Options:

Standard (Recommended): This will target MMP only attributable, Both MMP and SKAdNetwork attributable, and SKAdNetwork only attributable traffic by default with the option to target Unattributable traffic.
Advanced: Allows you to target any combination of traffic allowed by our system (guide).

Our MOLOCO Cloud team continues to strive to provide the best service with regular feature updates and improvements.
Thank you,
MOLOCO Cloud Team