Learn about the relationships between each campaign entity and detailed explanations regarding ad account, app, campaign, ad group, creative group, and more.
Ad account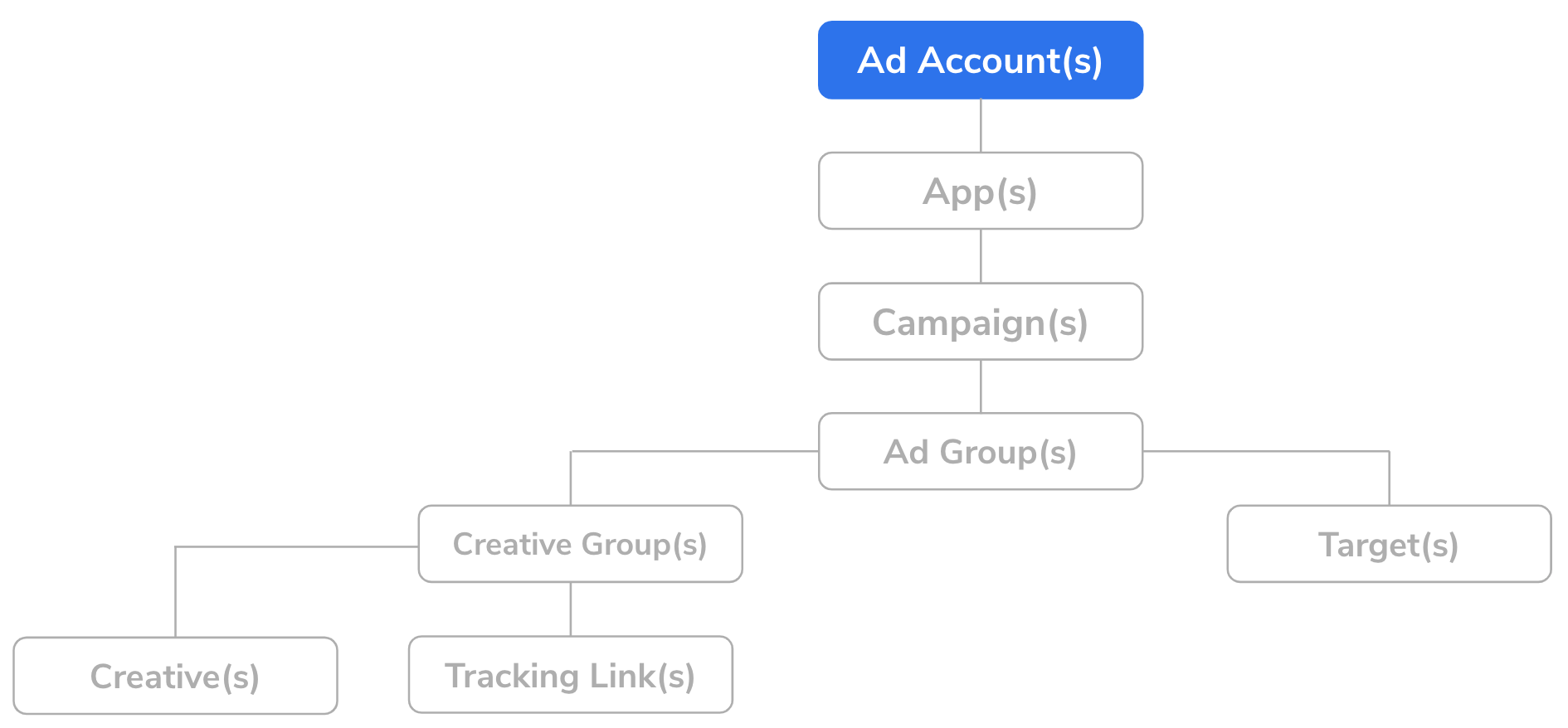 An ad account is an overall unit that designates currency and timezone for campaign operations and billing. Your campaigns will operate and invoices will be issued by ad account based on the account's timezone and currency settings. Learn more about ad account settings
Tip: If you would like invoices separated by brand or divisions, please create separate ad accounts for each brand or division.
Billing account
You need to select a billing account in an ad account which is the basis for campaign billing. For example, if you set up one billing account for multiple ad accounts, an invoice will be issued including all ad spending of those ad accounts. On the other hand, if the invoice should be separated for each ad account, you should set up different billing accounts for each ad account. To create a new billing account, reach out to your Moloco representative with the following information:
Billing email
Billing address
Currency
App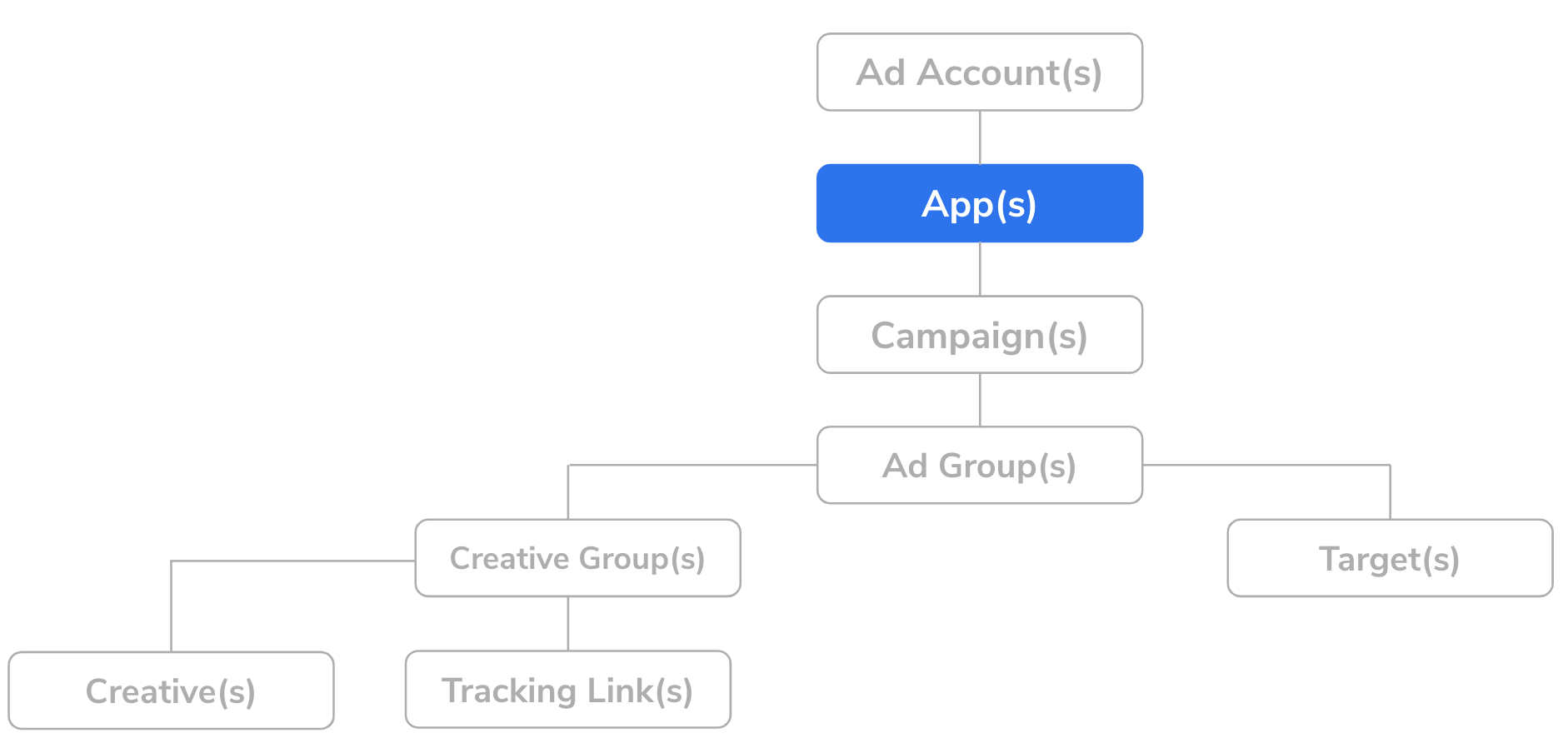 An app refers to the mobile app that the campaign is set up for and is set under the ad account. It contains all information related to the mobile app such as the MMP (MMP bundle ID), app store URL, app bundle ID, and app category (IAB category). Learn more about app settings
Important: You must create apps separately if the app bundle, OS or the store ID are different. (e.g. for apps released globally but have different app bundles in each country, a separate app must be created for each app bundle)
Campaign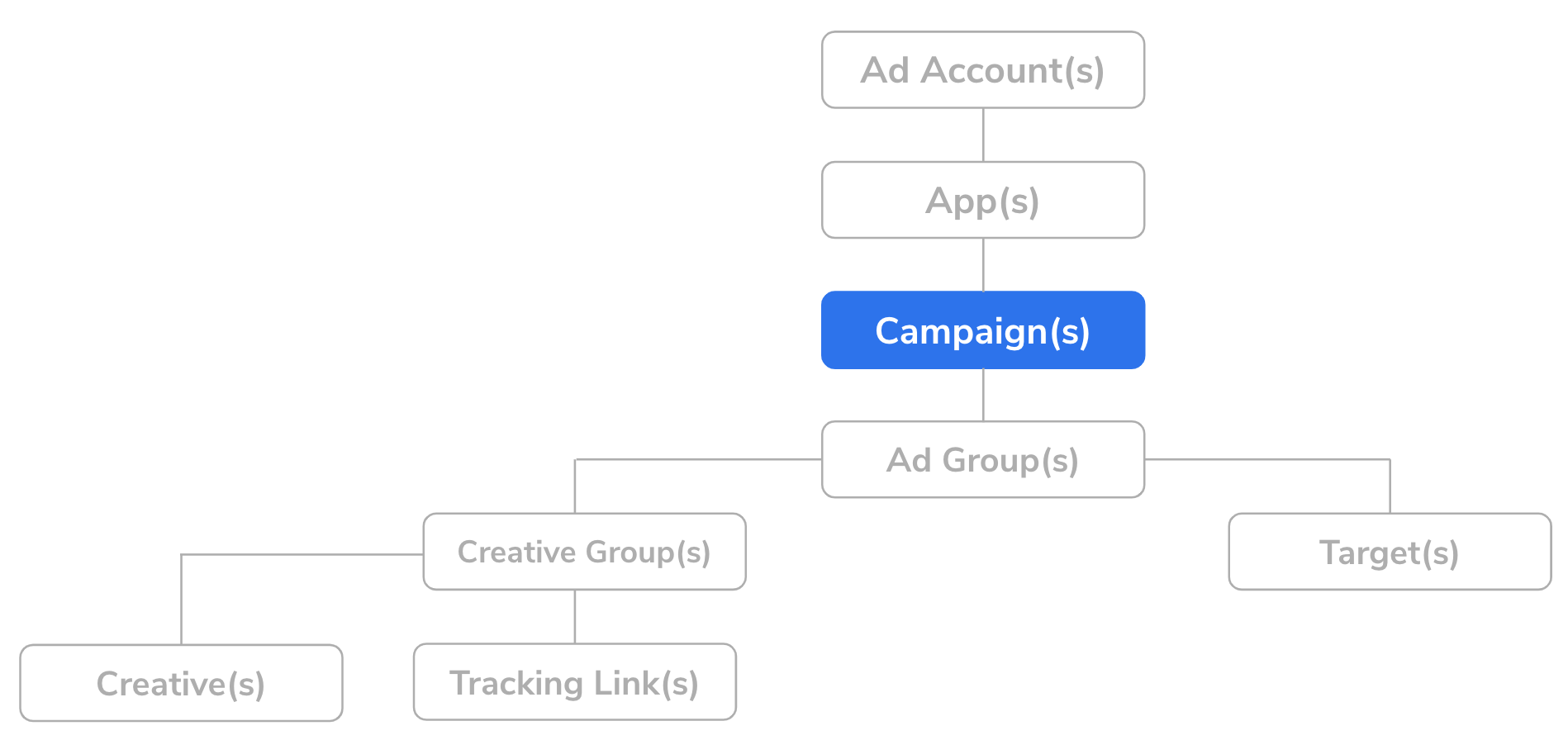 A campaign contains all campaign-related information and is the largest sub-unit under Apps. You must create a separate campaign for each campaign type, goal, target country, and OS. For example, you need to create separate campaigns for UA and Re-engagement campaigns.
All tasks related to campaign settings, such as setting daily budgets or campaign scheduling can be done within campaign settings. Learn more about campaign settings
Ad group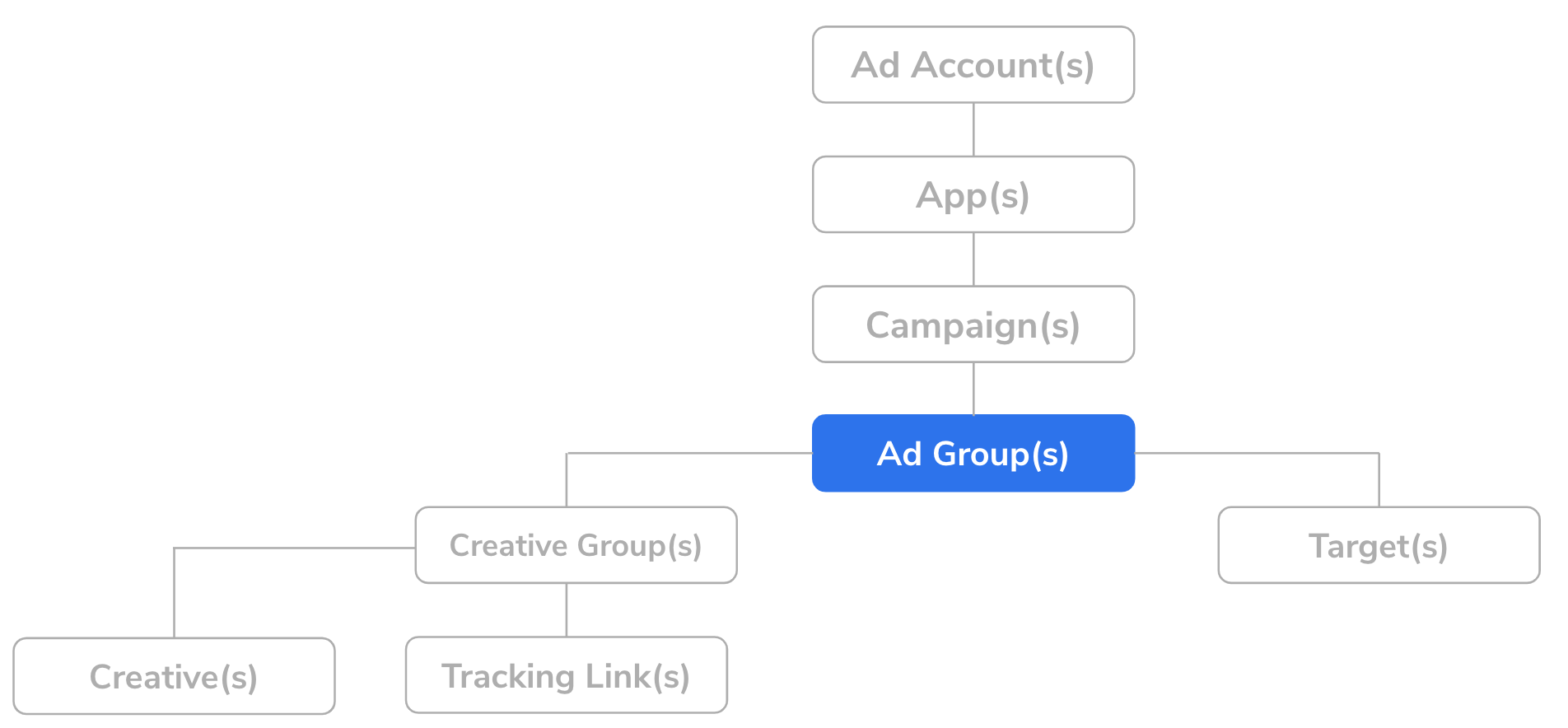 An ad group is the smallest sub-unit of the campaign. You can set targets and creative groups within each ad group. Learn more about ad group settings
Multiple ad groups can be included in one campaign. You may create multiple ad groups within one campaign to set up different targets and creative groups and see performance results separately.
Creative group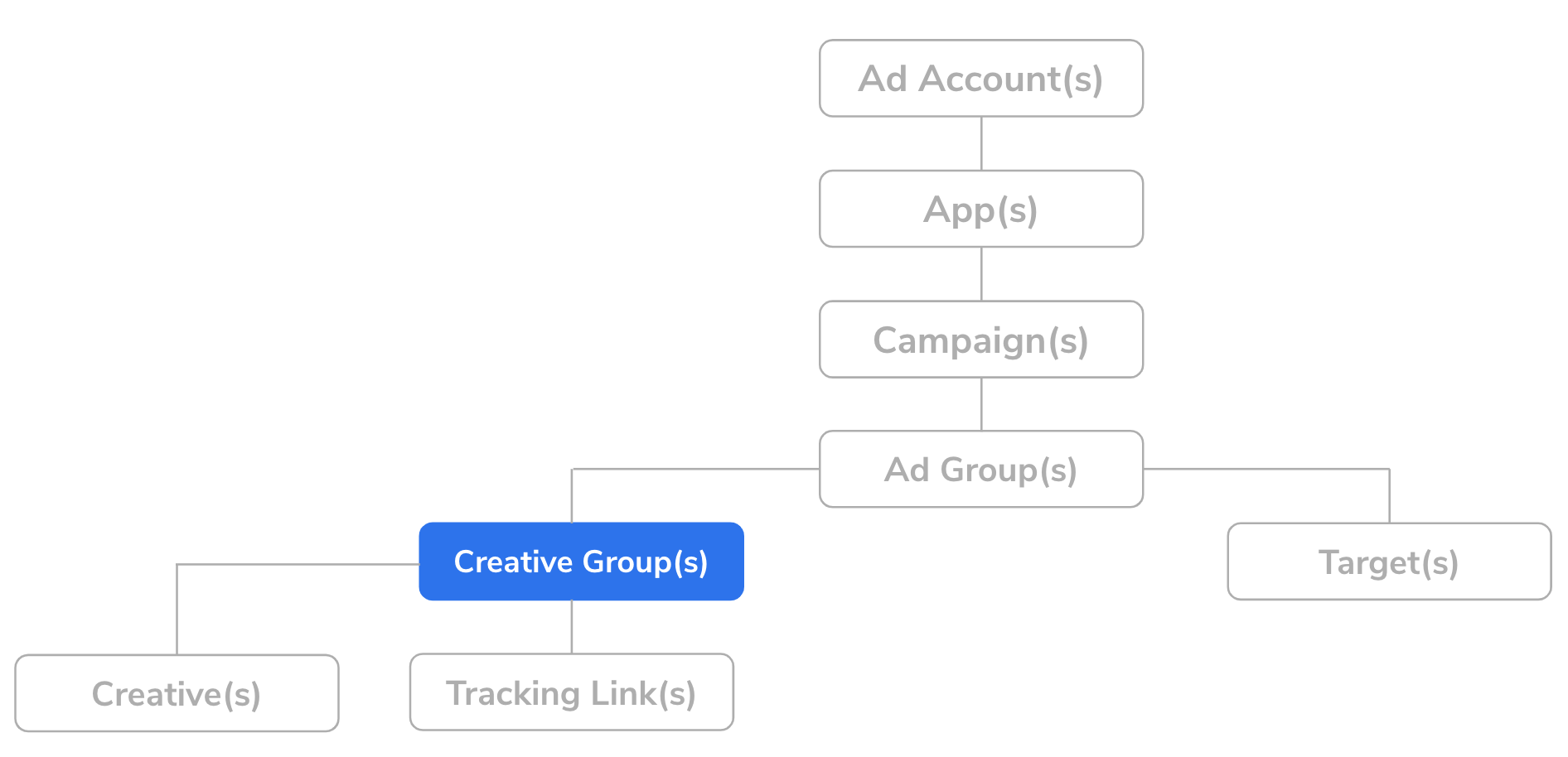 A creative group is a set of creatives that are grouped together and uploaded under the app. Learn more about creative group settings
Usually, a creative group consists of creatives with the same theme, however, the criteria to group creatives together are dependent on the user.
You can set multiple creative groups within one ad group, and can reuse the same creative groups for other ad groups.
Creative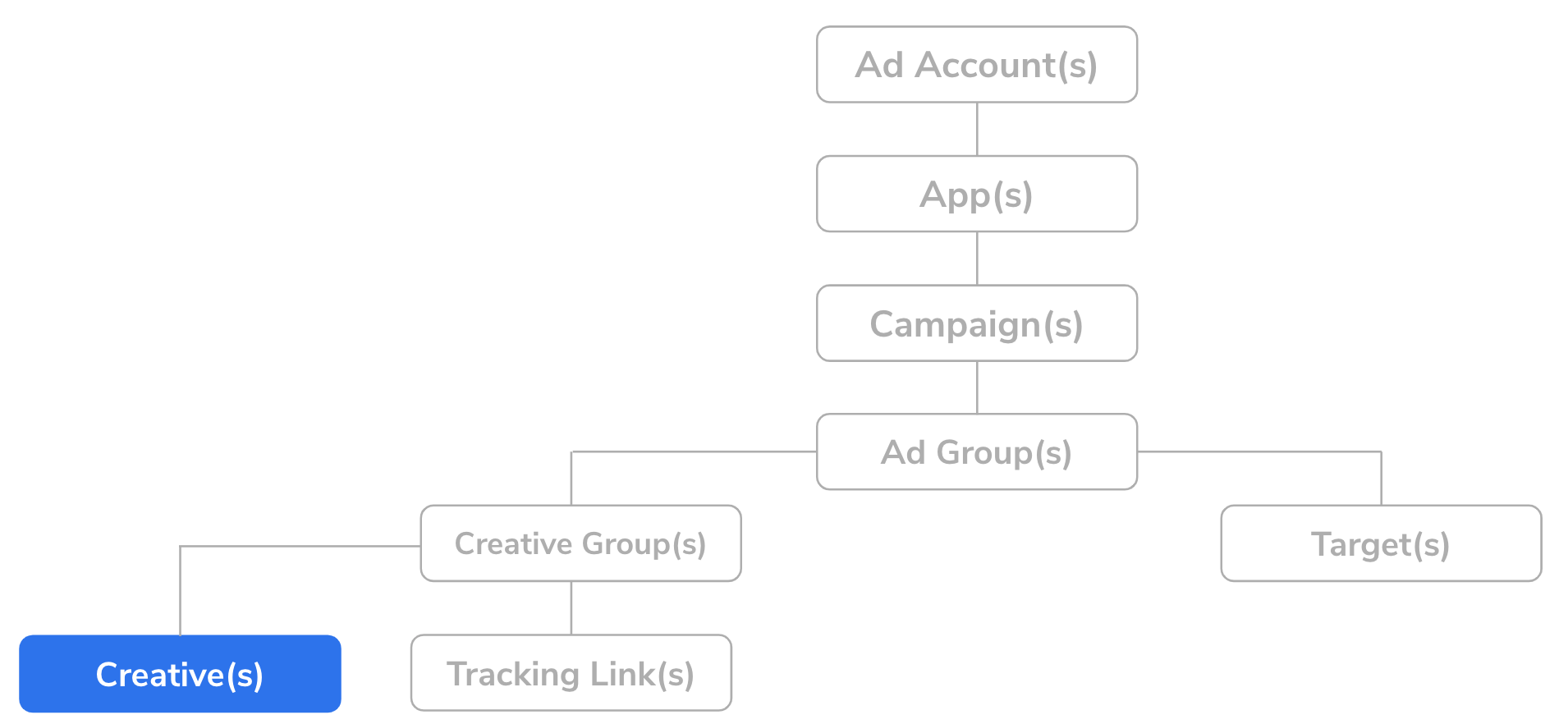 Creative refers to the ads directly shown to end-users. Creatives have various formats such as image, video, native image, and native video. Learn more about creative settings
You can set multiple creatives within one creative group, and reuse the registered creatives in multiple creative groups.
Note: For creatives to be released, the creative group must be added to an ad group within a campaign.
Tracking link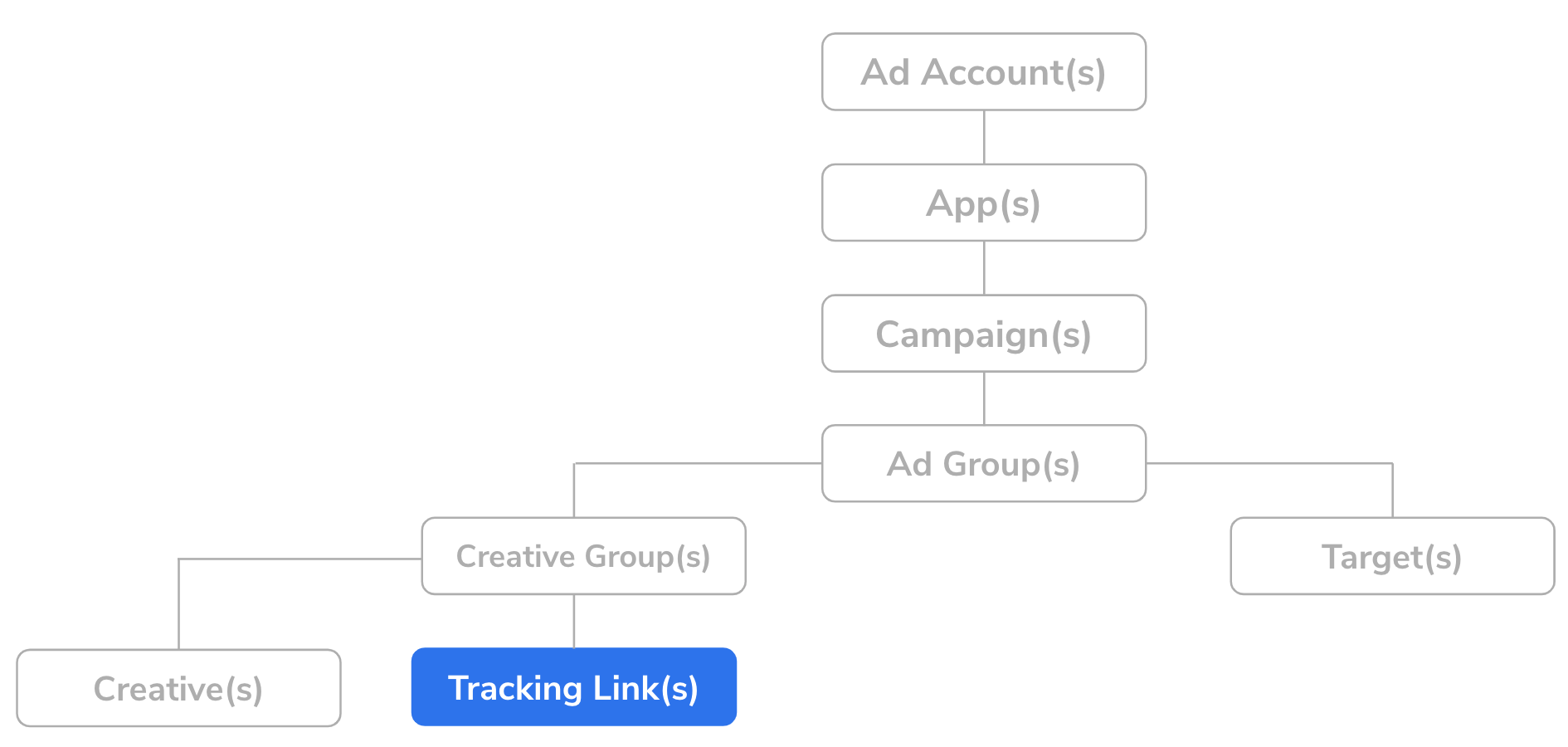 A tracking link is a URL to measure advertising performance through MMPs. An ad impression or click data is collected via a tracking link to track subsequent performance associated with each impression and click. Learn more about tracking link settings
The same tracking link can be reused in multiple campaigns or creative groups. On the other hand, only one tracking link can be set for each campaign or creative group.
Target

A target refers to the target user segment that would be exposed to the ads. We offer various options to create a target audience based on your desired conditions — uploading a list of ADIDs, building an audience based on MMP postback event data, or setting filters (by exchanges, ad placement, and devices models).
A target can be added to multiple ad groups and an ad group can contain multiple targets.
Important : After creating the target, you must add it to the desired ad group within the campaign to make the campaign target the desired users. Learn more about target settings
User list
User list refers to the designated user segment that is created by uploading a list of ADIDs. This is a fixed set of users so-called the static audience since it will not be automatically updated.
Tip: User lists are created under targets and may be added to multiple apps or campaigns under the same ad account.