Learn about the hierarchy and detailed explanations of each element, including the Ad Accounts, Apps, Campaigns, Ad Groups, Creative Groups and more.
Ad Account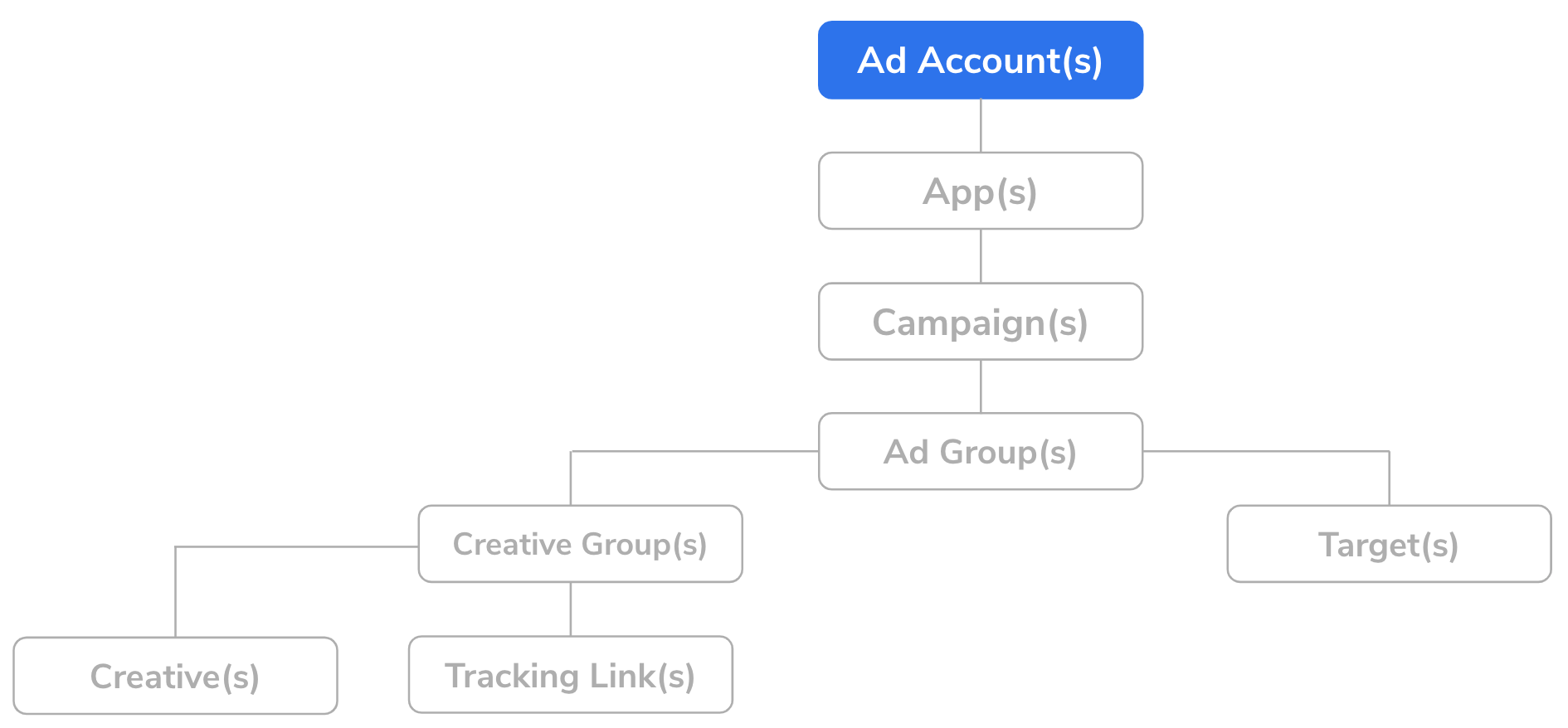 The Ad Account is the largest overall unit. Invoices will be issued by Ad Account based on their desired timezone and currency settings. Learn more about Ad Account Settings
Tip: If invoices need to be issued separately per each team, please create separate ad accounts per team.
App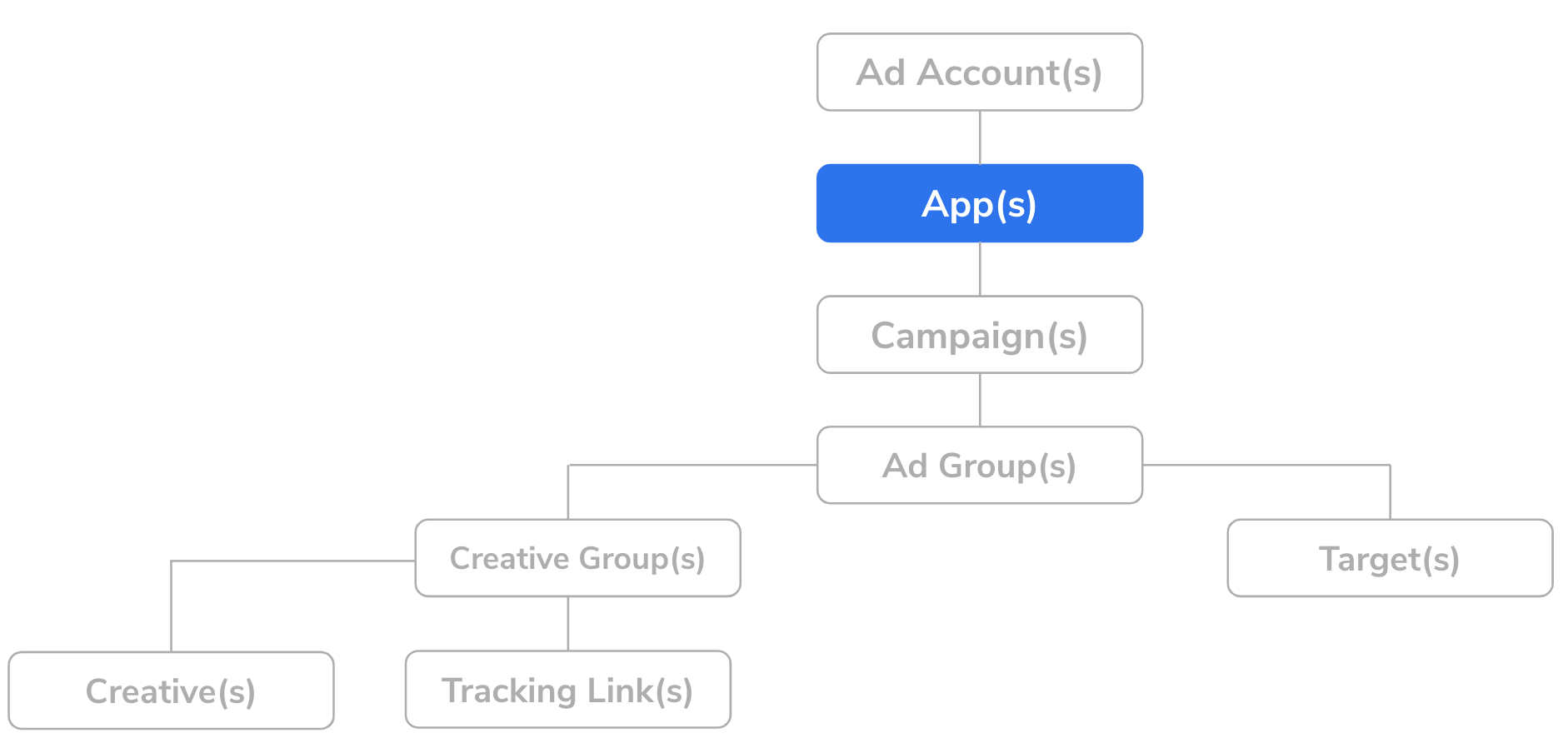 The App refers to the mobile app that the campaign is set up for and is set under the Ad Account. The App contains all information related to the mobile app such as the MMP (MMP bundle ID), app store URL, app bundle ID and app category (IAB category). Learn more about App Settings
Important: You must set create a separate App if the app bundle, OS or the store ID are different. (This mainly applies to global apps.)
Campaign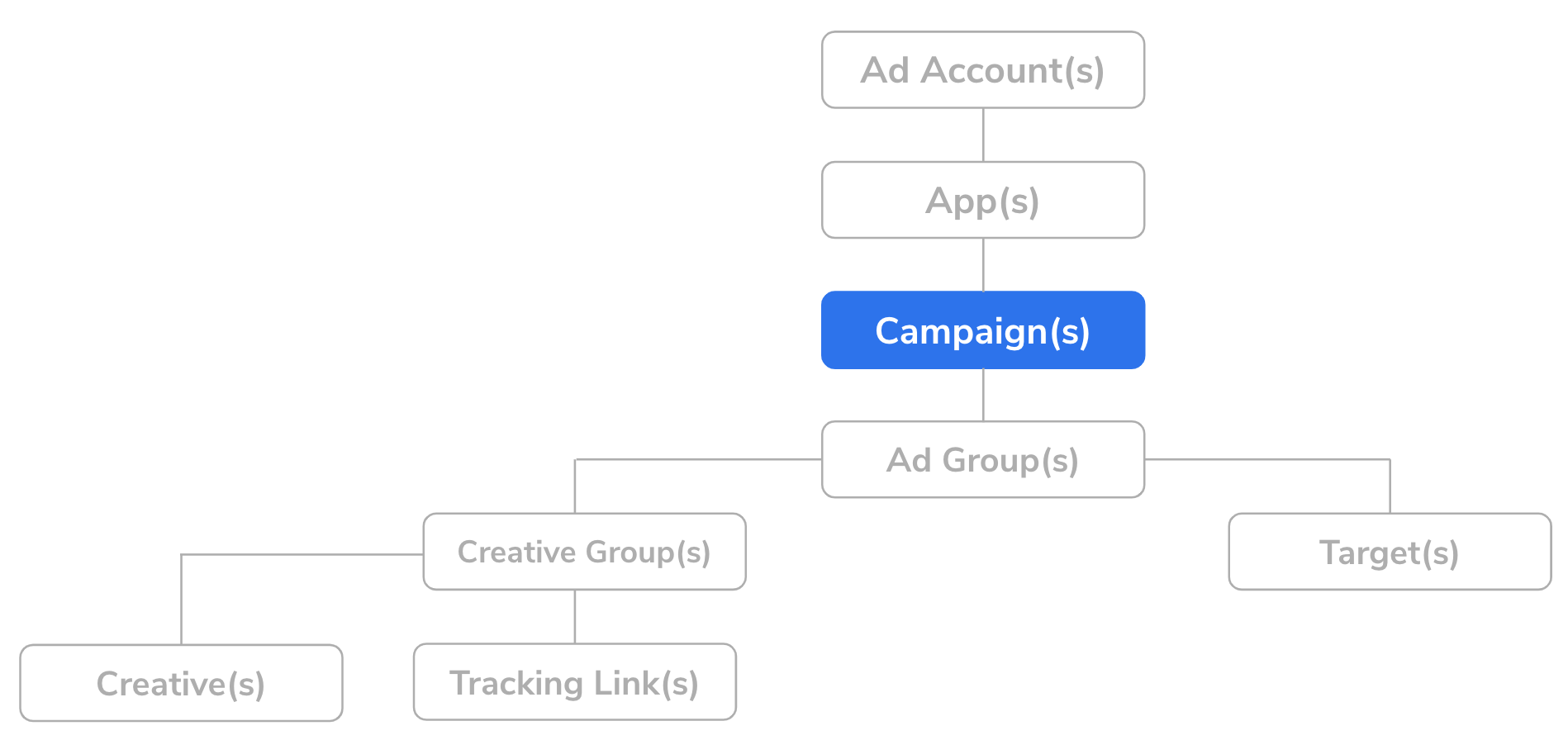 Campaigns contain all campaign-related information as the largest sub-unit included under the App.
A separate campaign must be created for each campaign type, campaign goal, campaign geo and platform (OS). For example, there must be separate campaigns created for UA and RE campaigns. Thus, you must create a separate campaign for each geo (and platform) for global campaigns.
All tasks related to campaign settings, such as setting daily budgets or campaign scheduling can be done under Campaign Settings. Learn more about Campaign Settings
Ad Group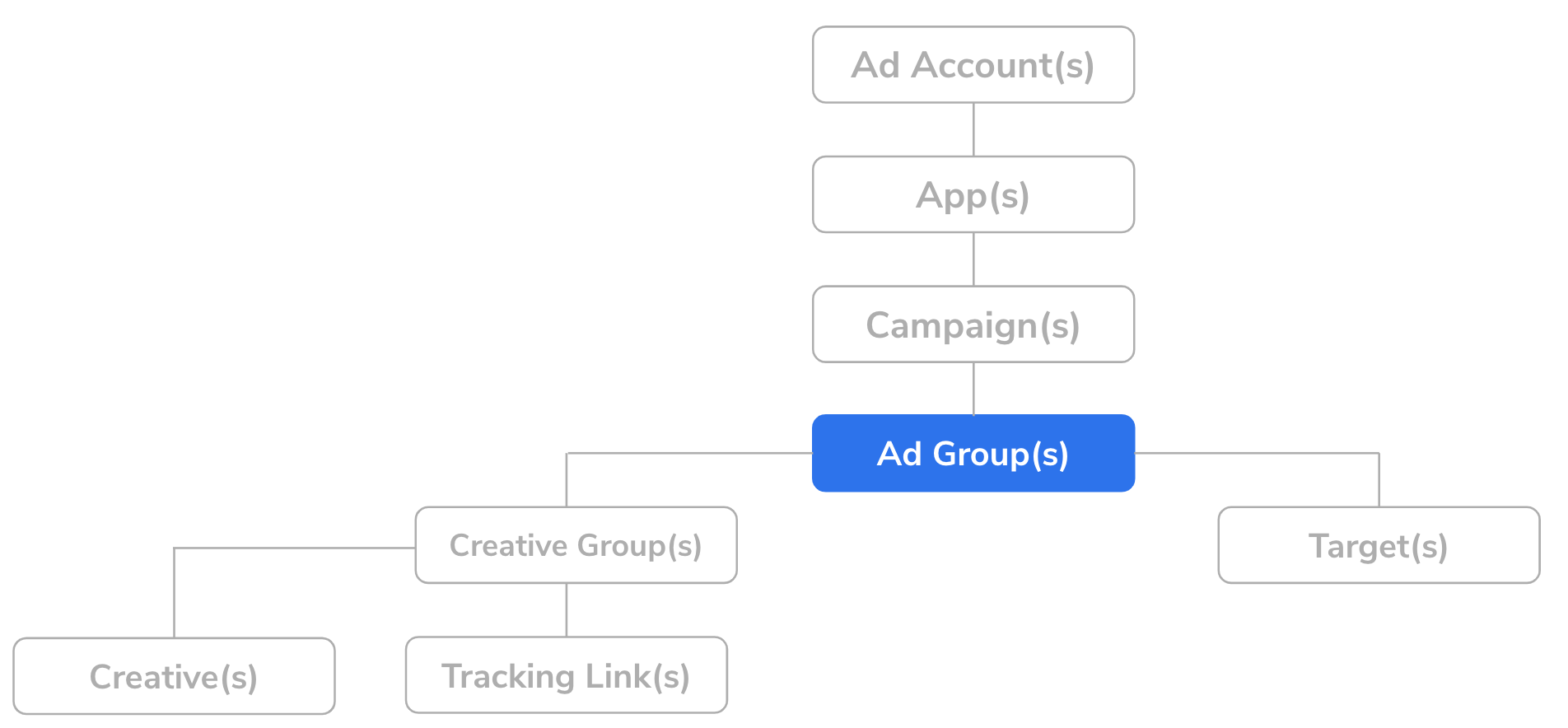 An Ad Group is the smallest sub-unit of the campaign. The campaign targets and creative groups must be set within each ad group. Learn more about Ad Group Settings
Tip: Multiple ad groups may be added if you wish to set multiple targets or creative groups separately within a single campaign.
Creative Group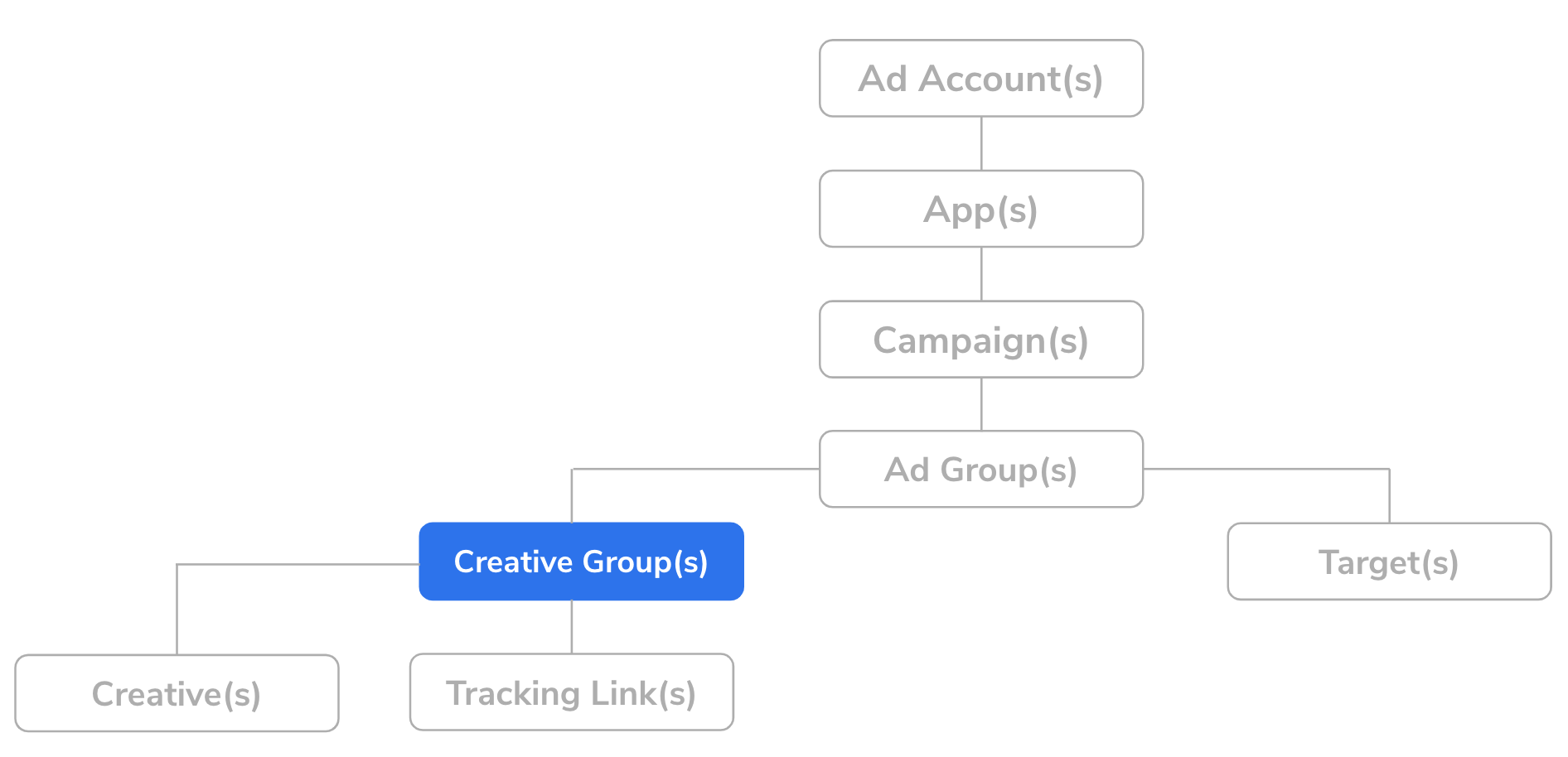 The Creative Group is a set of creatives that are grouped together that is included under the product. Learn more about Creative Group Settings
Usually, a creative group consists of creatives with the same theme, however, the criteria to group creatives together are dependant on the user. Learn more about how creative groups and creatives are related.
One tracking link must be used for each creative group. You may set different tracking links to different creative groups. How creative groups and tracking links are related.
Tip: Using the same naming convention for each Creative Group will make is easier to compare the performance of each group. For example, you can create a creative group based on the theme, creatives with the same message or by creative formats (banners and videos).

eg.
newcharacter_image_en_200402
    -creatives that promote a new character release 
general_video_en_200402
    -generic video creatives that promote the overall game (general)

Creatives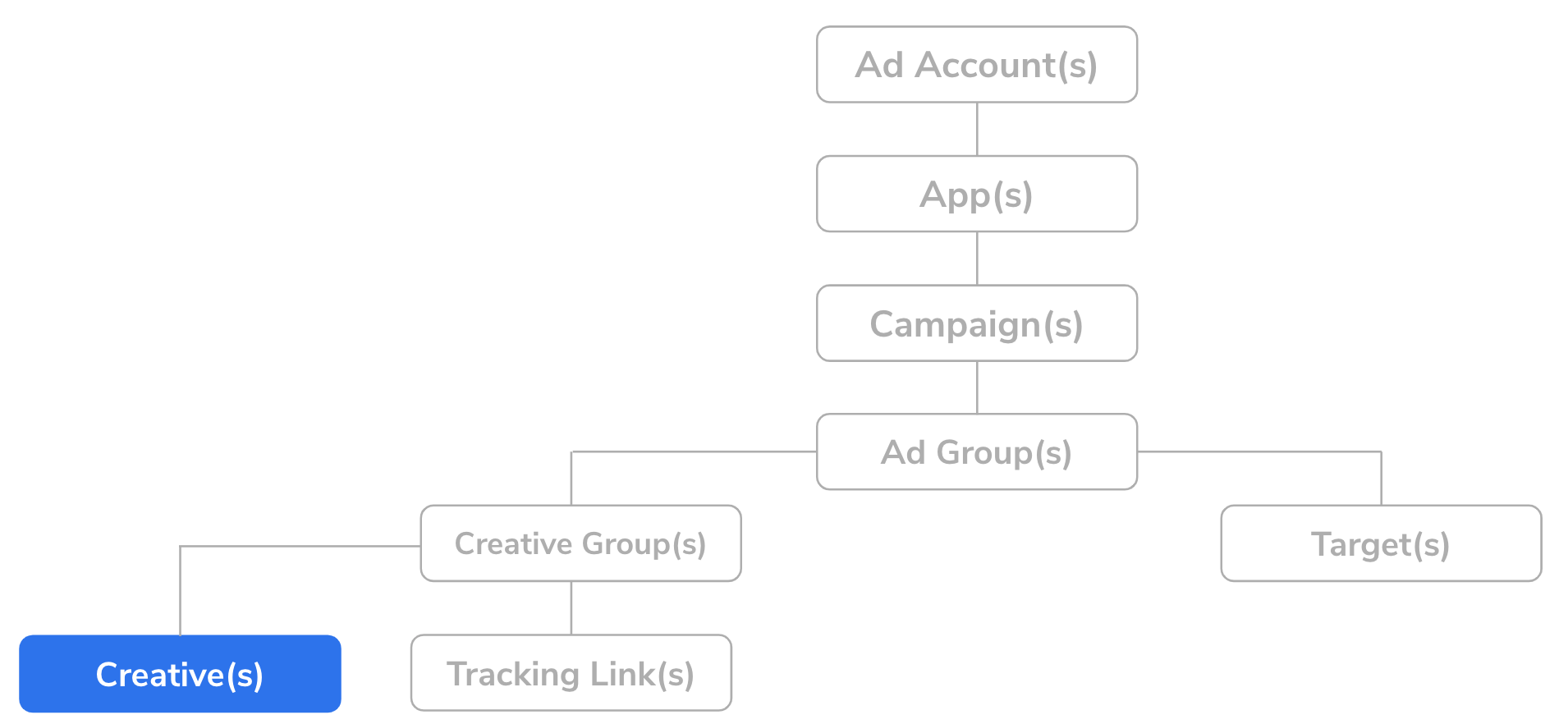 Creatives are specifically designed for a certain product and will be the ads directly shown to the users. Creatives include various formats such as image, video, native image and native video. Learn more about Creative Settings
Tip: Creatives can greatly impact the performance of the campaign. Produce creatives that highlight the product and appeals to the target audience.
The available exchanges or inventories may vary depending on the creative(s) added. Refer to the MOLOCO Creative Guide for creative guidelines. Some exchanges including ADX, Kakao, and Samsung have a separate creative review process and only approved creatives may be released. These inventories have specific creative production requirements that the creatives must meet in order to be approved.
Important: It is strongly recommended to add all of the mandatory creative sizes by geo for best campaign performance.
Tracking Links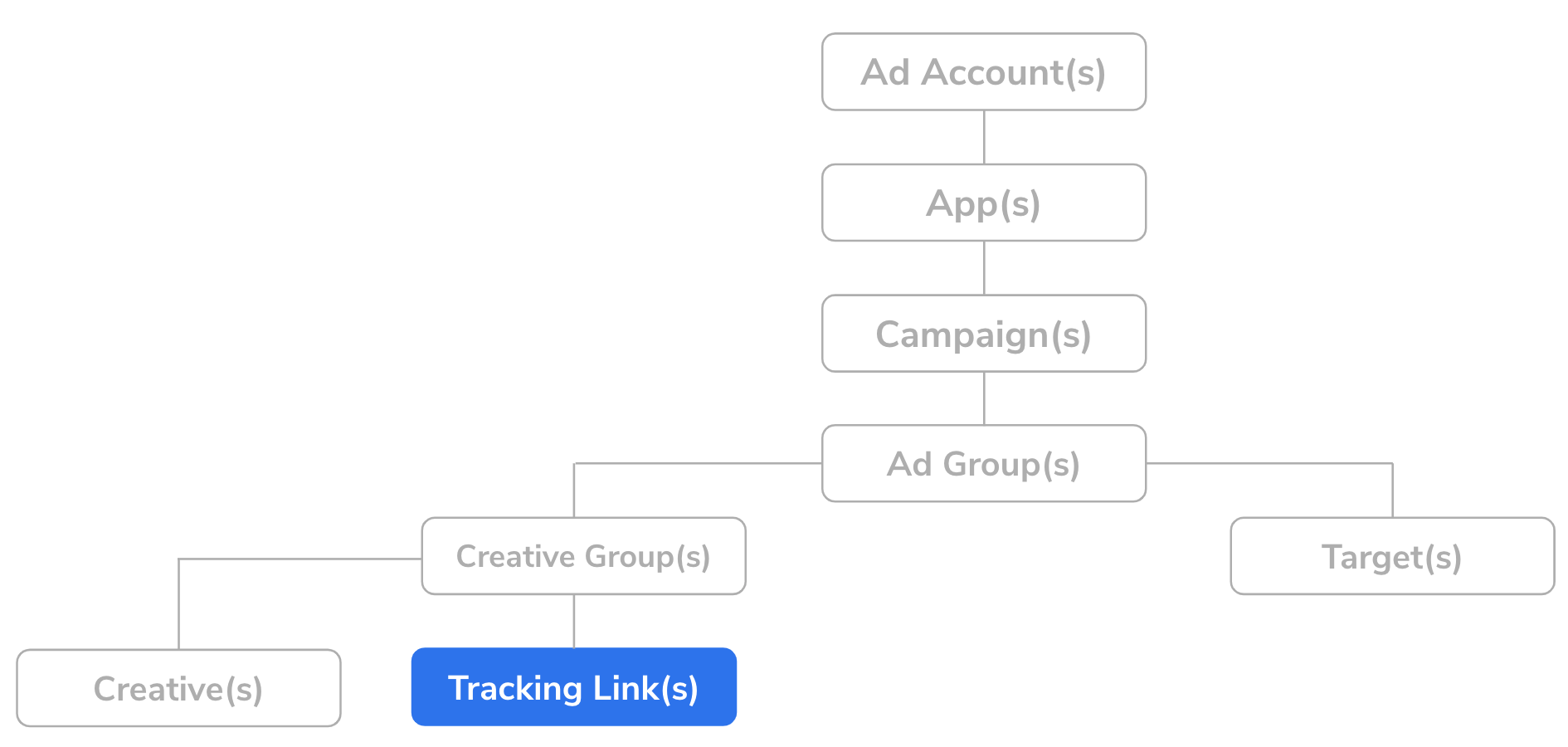 Tracking Links send data to the MMP, who are then able to track the performance of the campaign. Tracking Links determine the landing destination after an ad has been clicked and MMPs are able to determine the attribution type (by click or impression) of the conversion though the information gathered though the tracking links. Learn more about Tracking Links
Important: Tracking links are set on a creative group level which are added to each campaign. Learn more about how tracking links, creative groups and campaigns are related.
Targets

A Target refers to the user segment (target group) that would be exposed to the ads. There are various ways to create a target audience such as directly uploading a list of ADIDs, building an audience based on MMP postback event data or setting filters (by exchanges, ad placement and devices models) to automatically create the target audience that fit the desired conditions.
Important : The Target audience is simply the user segment created and must be added to the desired Ad Group within the campaign for the campaign to target the desired users. Learn more about Target Settings
Targets
You can set Targets which are specific conditions for the target audience of the campaign.
The following settings may be adjusted under Targets. Learn more about Target Settings
Audience Targeting
Device Targeting
OS version
Network ( Wi-Fi )
Bid Targeting
Exchanges
Creative Formats
Publishers
Categories
User Lists
User Lists refer to the designated user segment that is added by uploading a list of ADIDs by the user. This is a fixed set of users that will not be automatically updated that is also referred to as the static segment of users.
Tip: User Lists are created under Targets and may be added to multiple Apps or Campaigns under the same Ad Account.