Log Data Overview
In the Log Data section, you are able to download the daily impression, click, install action data in CSV format.

Note: Currently, the log data is based on UTC timezone and you can search and download the data for up to 7 days at a time.
Note: The Log Data is based on the UTC Timezone and you can download the data for the previous day.
There are 2 steps to download the log data which consist of making a Request for the desired data, as well as Downloading the data requested.
Requesting Log Data
To download Log Data for the first time on MOLOCO Cloud, you need to make a request for the data you wish to download. You can skip this step if the data for the date you wish to download is already created.

After the Request is made, the status will change to Processing until the data is ready to download.

After the Request is made, you may connect to another page or refresh the page while the data is being prepared.

In the case that an error occurs during the Processing phase, an error message will appear next to the request. If this occurs, you can make another request.
Downloading Log Data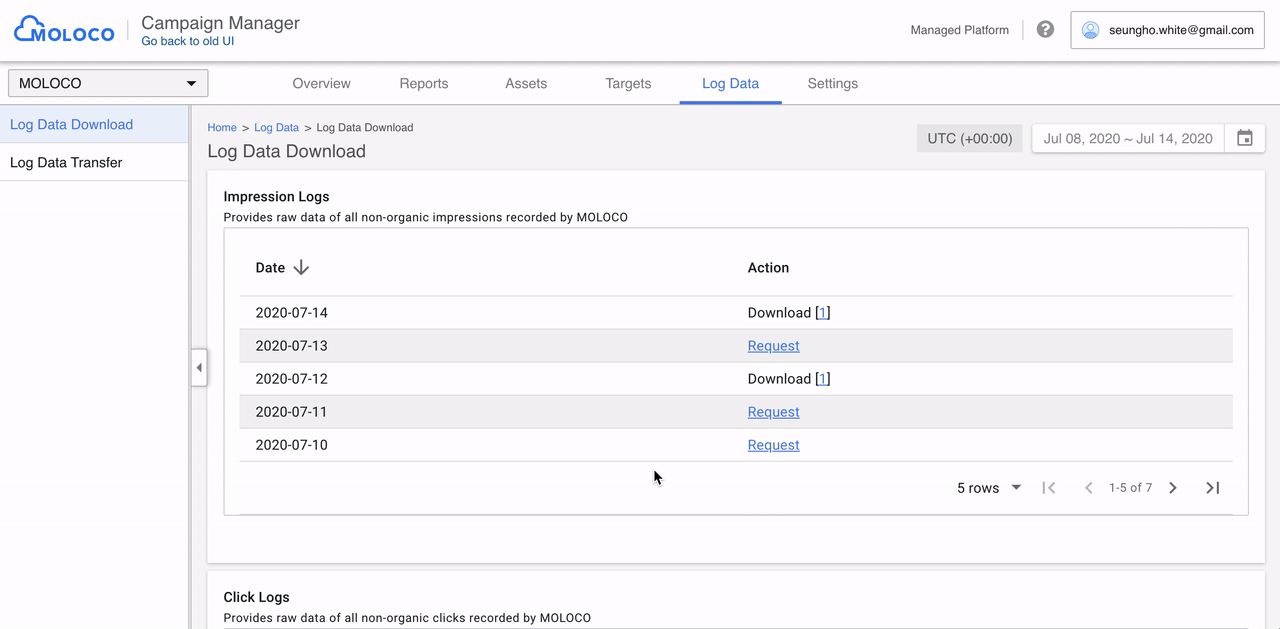 For log data that is available to download, Download[1]will appear next to the date the data was created.
If the data size is large, then Download [1|2] will appear to download the data in multiple files.
Click the number of brackets([]) to initiate the download.
The data will download in gzip format, decompress the file to access the CSV file.
Log Data Transfer
In order to set up a Log Data Transfer, you need to register the cloud (storage) information.

Note: As of August 1, 2020, log data transfers are only supported through AWS S3 buckets. Learn more about AWS S3 Bucket Settings (external link)

Input the required information in the Log Data Transfer page and click Create to complete the registration.

Once the registration is complete, the log data from the previous day is transferred from 3AM to 4AM (UTC) on a daily basis. The transfer record can be found on the Log Data Transfer page.