Dear Moloco Cloud DSP users,
We would like to announce the following updates to the Cloud DSP. Updates are effective starting June 21, 2023.
Use the StoreKit toggle to enable StoreKit rendering
You can use StoreKit rendering in your iOS campaigns to optimize ad experience for your iOS app users. StoreKit rendering displays your ad as a banner-sized overlay that your users can click to install the advertised app immediately without being redirected to the App Store to download. This feature is enabled by default at the app level for new and existing apps and can't be configured for individual campaigns. In the event that you would like to disable StoreKit rendering, you can do so by clicking the StoreKit toggle from the app registration page. To learn more about StoreKit rendering, see the StoreKit rendering guide.

Engaged-View Conversions (EVCs) are now available
We have added EVCs as a new metric for your campaign performance. EVCs are recorded when a user doesn't click but converts after watching 10 seconds or more of a skippable video or a skippable video from start to end when the video is less than 10 seconds long. To learn more about the benefits of EVCs and how they work, see the EVC overview.
To get data about all non-organic Engaged Views (EVs), go to Log Data > Engaged View Logs and click Request to download the data.

The following fields have been added to the log data table for EVCs. To see all fields included in the log data table, see the log data guide.
Object: EngagedView
Timestamp
Name
BQ name
Field
Type
Description
timestamp
timestamp
ev.timestamp
TIMESTAMP

Row insertion time in timestamps
yyyy-mm-dd hh:mm:ss.ssssss

2020-02-23 00:00:58.026083
IP
Name
BQ name
Field
Type
Description
ip
client_ip
ev.ip
STRING

IPv4 address closest to device

255.255.255.255
Object: Conversion
Attribution
| | | | |
| --- | --- | --- | --- |
| Name | Field | Type | Description |
| is_engaged_view_through | conversion.attribution.is_engaged_view_through | BOOLEAN | Valid values are true and false. When the value is true, the postback event has occurred from the engaged_view_through link. |
New filter value has been added to Creative Group
We have added Creative Group ID as a filter value to let you easily filter creative groups by ID. To apply the new filter value to the Creative Group list, select an app, and click Creative Groups to navigate to the Creative Group list. Clicking Add filter displays all available filters you can apply to the list. Select ID and type in the Creative Group ID of your choice to filter creative groups by.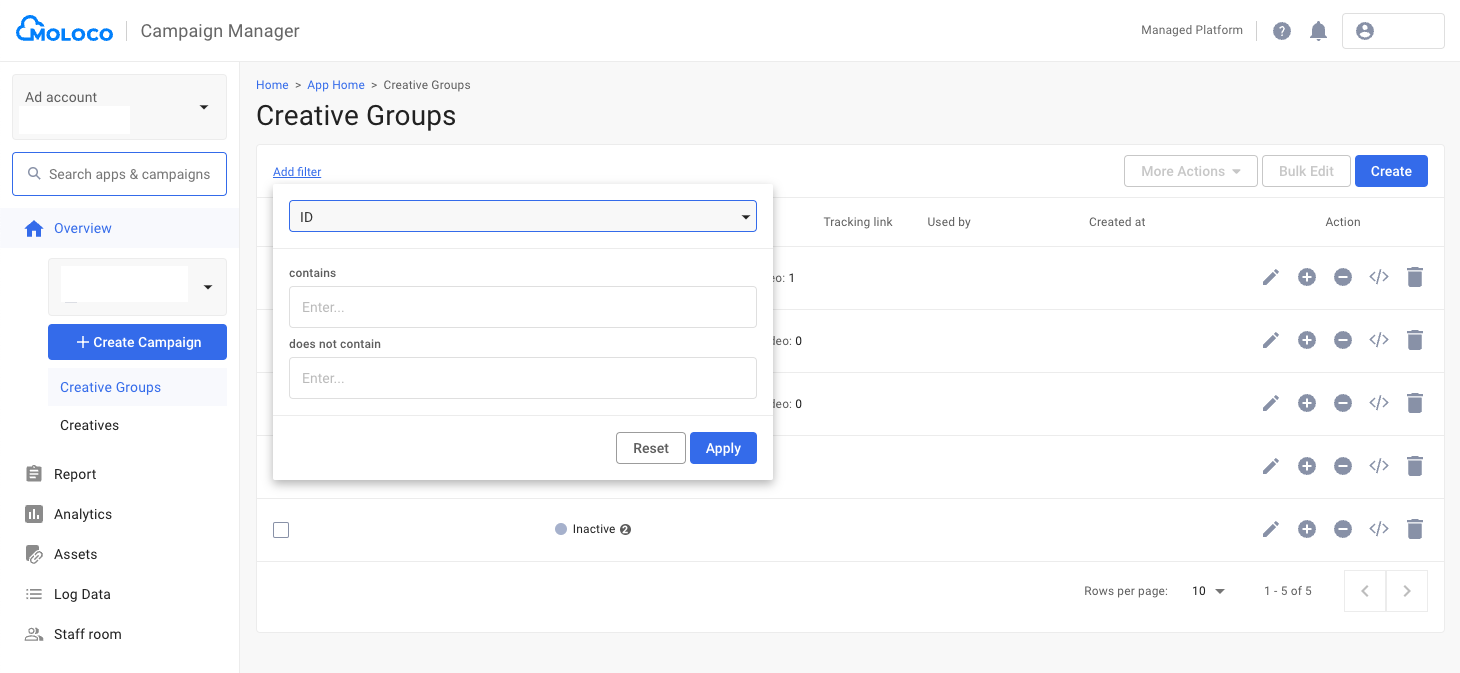 The Cloud DSP team is always striving to provide the best service with regular feature updates and improvements.
Thank you,
Moloco Cloud DSP Team